Administrative Department
Chairman

The Chairman of the school, Shri Pravin L Patel, a Physics Graduate from Sardar Patel University, VV Nagar, is a deeply spiritual and generous gentleman with great insight into education. He is, a philanthropist, social and spiritual worker of great repute and also sports enthusiast. He is blessed and inspired by the founder of Shri Swaminarayan Divine Mission, Anadimukta Shri Narayan bhai, a great spiritually enlightened educationist, administrator and teacher. He has been conferred with 'The Indian Leadership Award for Education Excellence – 2012' by the Indian Economic Development & Research Association, New Delhi. Along with this award he was presented 'Global Achievers Awards' for his outstanding achievements & distinguished global services at the international conference. He was conferred this award on 9th March, 2014 in Dubai by 'Citizen Integration Peace Society' Our Chairman had the rare honor of getting his article 'Seek Solace Within' published in 'The TOI's very popular and prestigious column 'THE SPEAKING TREE' on 09/12/2009 Student Edition. In true sense, he is a visionary leader with a missionary zeal.
Smt. Hansaben Pravinbhai Patel
Managing Director

Smt. Hansaben Pravinbhai Patel Deeply religious, committed to rigorous community service. Message from our Managing Director "MERE BHAGWAN MERE BALAKON ME HAI". With this motto SAKAR ENGLISH SCHOOL has marched ahead in its journey and stepped into the 21st year. Twelve years prior, our guruji Anadi mukta Shri. Narayan mama and beloved Leela Masi guided us to come up with a noble cause. We then started this school to benefit as many children as we can in the society. "GREAT ACHIEVEMENT IS USUALLY BORN OF GREAT SACRIFICE AND IS NEVER THE RESULT OF SELFISHNESS." We are here to groom the children in a way that they grow up to become good human beings. To facilitate this, we emphasis on personal love and care to each and every one here.Hence our ultimate goal is to help the children in making their dream come true as the name 'SAKAR' suggested by our beloved Leela Masi. I always pray for the students to scale higher heights and achieve success in life. 'STRENGTH AND GROWTH OF SCHOOL COME THROUGH CONTINUOUS EFFORTS AND STRUGGLE.'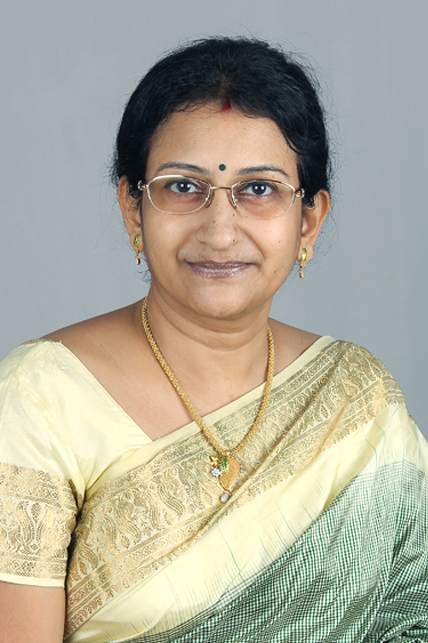 Smt. Smita Das
Principal

M.Sc. (Inorganic Chemistry), B.Ed. (Bombay University), M.B.A.(H.R.)
Ms. Smita Das, Principal, a post graduate in inorganic chemistry with B.Ed.(Bombay University), and M.B.A.(H.R.) is a multi-talented person with humanitarian, academic and administrative skills. She started her career as PGT Chemistry in Kendriya Vidyalaya, and later into Sakar since its inception in 2003. Having held all key departments in the school, she was the H.M. from 2005 to 2013. A person with a vision of academic success for all students, she is committed to create a conducive atmosphere for education. Lending her support not just to students, she has been successful in cultivating leadership qualities in the staff too. The focus of her vision and mission is to see the school reach the glorious heights. As a fitting appreciation for her meticulous efforts, Smt. Smita Das was shortlisted for Shrestha Shikshak Award 2009 by Shri. Ramanbhai Patel- AMA Centre for excellence in Education Zydus Cadila.
Ms. Baijayanti Moharana
Head Mistress (Secondary)
Ms.Pritiprabha H.
Head Mistress (Primary)

M.A., B.Ed. with P.G. Diploma in Linguistics (Gujarat University) Ms. Pritiprabha is a very talented, affectionate and dedicated person. She started her career as an Assistant Teacher in Sakar as the founder member, later on moving ahead into secondary section of the English Department. She has skillfully worked in all the departments of school from being Head of English Department, Examination in-charge, CCA Co-ordinator, Lobby In-charge etc. She believes in team work, creating positive and healthy atmosphere for learning and growing. She is passionate about teaching and is confident that love, appreciation, motivation and inspiration will do miracles and wonders to transform any child to a successful person.
Ms. Leeta Mohanty
Head Mistress (Pre- Primary)

B.Sc., B.Ed., CTET(qualified), L.LB., DISM
Mrs. Leeta Mohanty is a B.Sc. degree holder in Zoology from Sambalpur University with 18 years of experience in teaching. She started her career at Seventh-Day Adventists School in Surat after which she taught in S.D. Jain Modern School, Surat, D.P.S. Gandhinagar and D.P.S. Bopal, Ahmedabad. Mrs. Mohanty approaches the profession of teaching in a unique and innovate manner. She believes in critical thinking, organizing students' activities, assisting slow-learners with remedial teaching and providing gifted students opportunities to discuss advanced material. She believes that every student's potential should be efficiently utilized to provide him/her the best learning experience possible and she puts in her best efforts to achieve this admirable goal. Mrs. Leeta Mohanty's vision and mission entirely focus on creating a fun filled learning environment for the tiny tots of Sakar that will remind these little stars about their school everyday including holidays.